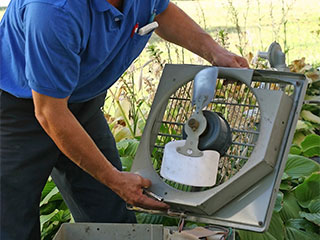 The simple answer is yes! The HVAC unit of your home is located outside so that it can pull in air to use for air conditioning, thus stabilizing the temperature of your household. Due to being outdoors, it can be subjected to leaves, dirt, and otherwise falling on it. Aside from this, the act of drawing in air pulls in all sorts of unwanted things like insects, dust mites, and even dander from animals or humans nearby. Toxins in the air itself will also be brought in including chemicals and smoke, making it all the more important to get your unit cleaned regularly for safety.
Why Is It So Important?
There are many benefits to keeping your home's HVAC unit clean, one of which is energy spending. Air will struggle to pass through into the unit when it's blocked with dust and otherwise, and because of this it will have to run longer to get your home to the desired temperature. Not only is energy wasted due to this, but the parts of the unit will also struggle and wear out much faster and shorten its lifespan. All the more concerning are the health concerns that come with a dirty unit. The contaminated air, which enters your home, can cause symptoms like nausea, fatigue, and far worse issues for those with allergies or asthma.
Don't Worry, We've Got It Covered
Thanks to our experts with years of experience, you won't have to worry any longer! We'll be out as soon as possible to get to work on your HVAC unit. We use professional quality tools to carefully and thoroughly clean both the outside and inside, leaving it completely clear and ready to work properly again. You'll be amazed of the difference you'll feel after we're done!
There's No Need To Wait
We're ready to go when you are! Just contact Air Duct Cleaning Malibu today. You won't regret it!