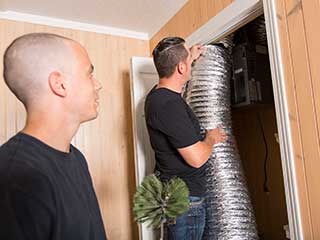 The air circulation in many buildings isn't as good as it could be. Plenty of properties have clogged or dirty vents that don't let air pass through as easily as it ought to, and causes lots of problems for those that live or work there. Clear ventilation ducts bring many important benefits, but many property owners don't realize that their ducts have become blocked until it's too late.
Advantages Of Ventilation
Circulating air through your property is essential for promoting a healthy, comfortable environment. Without a fresh supply of air, rooms will become stale and stuffy. Many properties also rely on air circulation to control the climate, using HVAC systems to keep the temperature at the right level. In addition to this, mold and damp tend to thrive in areas where air isn't circulated regularly.
Air Duct Problems
Obstructions can occur more easily than many property owners imagine. Any debris can quickly begin to accumulate dirt and dust, and there are many cases of old insulation, construction materials or even vermin debris causing vent blockages. These buildups are enough to prevent the free flow of air through the vents, leading to a wide range of problems. For example, your HVAC system will have to work a lot harder to push air, and will cost more to run. You may also find that contaminants such as dust and spores start to enter the air, posing a potential health risk.
Solve Your Vent Issues Today
All too often, property owners don't realize that their ventilation system is blocked or dirty until they start to suffer the negative effects. This can be dangerous and expensive, though. If your ducts haven't been cleaned in a while, or you're encountering any of these issues, we strongly recommend seeking professional help. Just get in touch with Air Duct Cleaning Malibu today to book a service appointment.