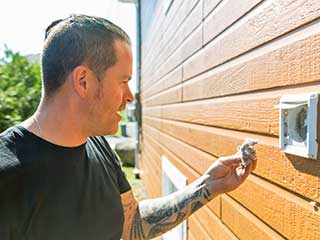 It's important that you do everything within your power to prevent a dryer fire from occurring in your home, and the best way to do this is to hire our company to keep your vent clean and free of lint. Fires can be avoided, but it's a good idea to know the warning signs so that you know when to call us to make an appointment.
Clothes Still Wet
The drying time of your clothes and blankets will take a lot longer than normal when you are in need of dryer vent cleaning. This happens because the vent is blocked by lint and the clothes will stay moist and hot instead of drying completely.
Too Hot to Touch
Even though your clothes will be hot right out of the dryer, if they are too hot to touch and the outside of the dryer is hot, that's a warning sign that you have a lot of lint building up inside the appliance. This wastes energy and can cause the heating element to wear out faster.
You Smell Burning
You shouldn't notice a hot or burning smell when your dryer is running, but if you do, it may be a sign that trapped lint is catching on fire. If you smell this, you should shut off your appliance immediately and call us right away to discuss dryer vent cleaning to ensure the safety of your home and family.
Knowing what signs to look for will ensure that you are getting your vents cleaned before a serious issue occurs. At Air Duct Cleaning Malibu we have the expertise and equipment needed to clean your vents quickly and efficiently, and will take care of any problems you have with your dryer vent.