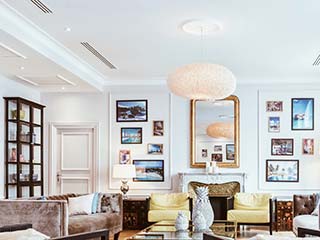 Cleaning Air Ducts
The air ducts form a pathway through which air circulates around your home or office. Sadly, it is not always just air that gets circulated. Dust, pet dander and germs can also get pushed around with the air that's flowing around your property. If there is a significant amount of debris in the vents, these can also get deposited in to your vent systems, slowly increasing the risk of allergy and other potentially detrimental health problems in your home or workspace. Let our residential air duct cleaning professionals free you from the health hazards of dirty indoor air.
Sanitizing Indoor Air
Sometimes indoor air becomes foul and dirty. It's unpleasant to imagine but this is often the result of dead, trapped small animals inside the ducts. Sometimes the contaminant maybe an airborne pathogen that could cause infections. Whatever the cause of the air contaminant or poor air quality, our air sanitizing services will help you to confirm that the air you're breathing in at home is clean.
Kitchen Hood Cleaning
Your kitchen hood is subject to smoke and soot on a daily basis so it is quite understandable that the hood and its vent are a little bit soot covered. This however doesn't excuse you from cleaning it. Our experts can also do this for you so you don't have to worry about the job. Once we're done, the layers of soot will have been eliminated, and the function and aesthetics of your kitchen hood will be back to normal.
Maintenance and Parts Replacement
Not only are our professionals in California experienced with all types of cleaning services related to air ducts, we can also help you out with duct repairs. We have the necessary replacement parts in our inventory for all kinds of brands and models of ducts, filters and HVAC units, so you don't have to worry about any compatibility issues.
Contact Us for Air Duct Services You Can Count On!
Friendly and Helpful Staff